---
In February 2016, as a result of a bad luck streak, I arrived in Dubai because of a missed flight, from Munich with a transfer in Istanbul. I was travelling to Oman, but I arrived at 4 am, and the bus to Oman left at 11 pm, so I had near 19 hours for a little sightseeing, and was glad about it. I took my camera, and I set off to conquer the city of luxurious scenes…
---
What to visit, if you only have a short day?
That was the first question, after I bought my daily ticket to the underground of Dubai, which is an elevated railway despite the name. The red rail crosses the city lengthwise, so I decided to go along and get off at each worthy station. Stations are numbered oddly from 11 to 42. There is a shorter green metro line, which has a numeration also starting with 11. If anybody happens to know the reason, share it with us in a comment. There's no doubt where my first way led to, Burj Khalifa, the tallest building of the world. (I'm obsessed with tall buildings and high places.) So I got off at Burj Khalifa metro station, which is 1 km away from the skyscraper and the huge Dubai Mall at its feet. If you thought, you have to go on foot through the streets in 30°C, you would be wrong. The station and the mall are connected by a roofed, air-conditioned, winding overpass overarching several roads, wherein travelators run, so that you can cover the distance almost standing in one place. 1 km or not, you step directly into the mall from the station.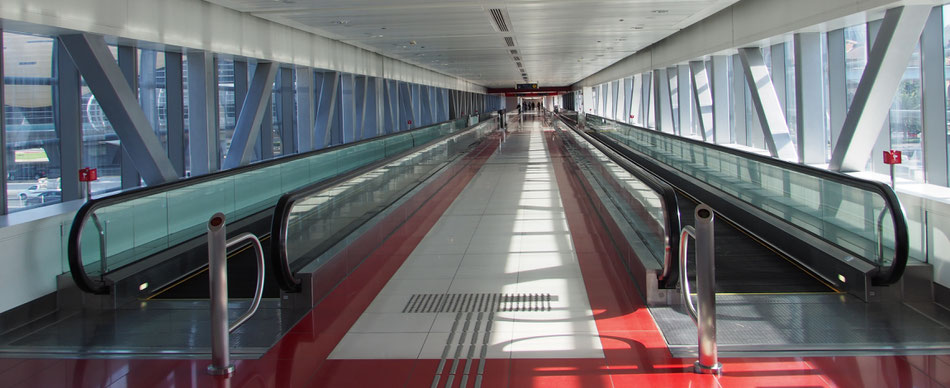 Dubai Mall is the largest shopping center of the world with more than 1200 stores and near 70 million (!!) visitors per year. I only got through once, but I walked my feet off. For example, you can find there one of the world's largest aquarium, which contains more than 11 million liters of water, more than 33000 aquatic animals live in that, and several divers work among sharks and rays (if you're open-eyed enough, you have noticed one on bottom on the right). The most awesome thing is the glass plate, which is the biggest one in the world with its 8-and-a-half-meter height, 33-meter length and 75-centimeters width. It's hard to imagine how could that be made, transported, and how heavy it may be. Practically, in the mall, there is nothing you cannot find, besides all possible luxury and designer brand you can find shops like Harry Potter, Hello Kitty, Pink Panther, Lamborghini, Porsche, Ferrari, etc. On the corridors, the wealthier are transported by small electric golf carts, so that they don't get tired of getting to Louis Vuitton from Rolex.
At the bottom of the Mall you can find visitors' entrance to Burj Khalifa. Soon the receptionist tried to skin me, as they probably think all visitors to be millionaires, so she happened to say that the cheapest ticket costs 350 Dirham, which is about 90€. No matter, how hard I said there is a cheaper one, she stood pat. I looked for prices on internet, and I found a ticket for 125 AED (about 30€). She let me in with a poker face. For that cost, you can reach to the 124th floor, which is around at 2/3 height. The view is fascinating. You can make extraordinary photos there. From here, you can take a look behind the scenes: behind the skyscrapers there is nothing but desert. There's no transition, no agglomeration, the whole thing is totally senseless and groundless, but who cares, if you have the amount of money, that you can do anything in the world with. Amazing. I spent hours taking photos and goggling. Though there is much space above, so there is no crowd, you have to wait quite long for the elevator; even the fastest elevator in the world (!!) is unable to take 124 floors there and back in a few seconds. You have to count with a 30 minutes standing in the queue, unless you go up to the 125th floor, where only people who have expensive ticket can go, and by VIP elevator, you get down in a sec. Nobody's gonna check your ticket. By the way, here are a few fun facts about the building which holds 13 world records: it costed 20$ billion, which we could have cover the missing founds of the national budget of Hungary 22 times. The construction took 22 million working hours, 330.000 cubic meters of concrete and 39000 tons of reinforcing steel. In the building there are 700 private apartments, which were sold out in the first 8 hours of sale. I think, not for a price of a bachelors flat in Csepel. (Downtown of Budapest)

I arrived to Dubai Marina harbor-town by going on with the red metro line. The most exclusive zone of Dubai can be passed around on foot, but there you can find the recently given and only one tram line, which you can use with metro ticket. The tram station is air-conditioned, as well as the bus stations, and there is Wi-Fi. In the metro and on trams there is first class, where you can sit on leather seats, separated from 'working class'. Like elsewhere, there are a lot of semi-built skyscrapers. They multiply as fast as mushrooms, although many constructions have stopped or slowed up recently, due to financial problems. I felt like I was a guest of a simple countryman, who won the lottery. It was the biggest luxury and splendor – many times crossing the boundaries of good taste, and especially good sense –, meanwhile they have run out of money. For a while, they'll live by people who come to visit this madness, but oil takes only 6-8% of GDP – tourism is the main income. Of course, only 20% of the population are citizens, they are kept on luxurious level by millions of Indian, Bangladeshi, Pakistani, Filipino, etc. guest workers, who build this luxurious Disneyland in horrible conditions, many times for even less money than the Hungarian minimum wage.
My way led to Palm Jumeirah, to the famous palm-tree-shaped island. You can get to the end by an automatic monorail, to Hotel Atlantis and Aqua Park. The hotel is beautiful, monumental, the Aqua Park is amazing, there is a large aquarium, and there you can find Gordon Ramsey's restaurant. However, if you have nothing to do in the hotel and you don't want to spend a fortune on the park, it's not worth going there. Luxury residences and their surroundings on palm-island are private, monorail costed more than the one-day metro and tram ticket, and you have to walk a lot to first station. It got dark, so continued my way towards the ancient town. I was interested in Old Souk, the bazaar-quarter, I wanted to see it, before I left. I haven't seen such amount of gold in my entire life, but I think all the visitors would agree with me, no matter where they came from. Streets full of jewelries, tons of gold, diamond, gems. Shops are full of shop assistants and potential customers, there's no slack, not for a minute.
I left for Oman at 11 pm. I had dinner on the filthy, dark outskirts in an Indian restaurant. 'All you can eat' for a song and it seemed seductive; unfortunately, there was almost nothing edible… I bestirred myself for the journey towards the desert by the old, smoky, clashing tourist bus. In a few minutes, there was no track of polished, air-conditioned luxury, only a sweating group of Pakistani and Bangladeshi guest workers, exhausted by plodding, and there was I, in the middle of dark, naked nowhere. Too much contrast in too little time; I was in for too much time to weather, till reaching the border, now falling asleep became a luxury as the old bus tossed me like a Simson in the plough (like hell), the guy besides leant on me, directly below the engine roared… and finally, I found myself at the border. That's another story, if you liked this one, keep up with me to Oman!
---
For more amazing pictures, click here: GALLERY
I hope you liked this post. If you have questions or ideas, please, type them in comment.
Translated by David Kaposi.