---
Imagine it's early December, you've been swinking the whole year, you're exhausted by the exams, the strained pursuit for promotion and you're totally squeezed by your boss, teachers, clients and you're facing the Christmas rush, brainstorming, hunt for presents and you're like a battery, that went flat and feels it.

In that case you need a family doctor to write a prescription for a weeklong Cape Verde trip.
The perfect cure for occupational burnout is a week in the summerlike winter on this little island isolated from the world. With a bit of luck and investigation you can get a flight for about 650 Euros to this little archipelago barely known by an ordinary tourist.
---

Cape Verde

 Area: 4033 km³
 Population: 500.000 fő
1 € = 110 CVE , namely Escudo.
Capital: Praia (Island of Santiago)
 Tranquility:                ֍֍֍֍֍
 Entertainment:        ֍
 Sights:                         ֍֍
 Offroad:                      ֍֍֍
 Cheapness:               ֍֍֍֍
 Safety:                        ֍֍֍֍֍
 Impression:              ֍֍֍֍
Recommended to: windsurfers, wakeboarders, singles, couples, those who long for tranquility and solitude, winter summering fans and those who dig Africa but safety too.
The archipelago consists of several small volcanic inhabited and desert island. It lays about 600kms far from the western shores of Africa, in the Atlantic-Ocean.
---
In the December of 2013, I set out on the way to Cape Verde on my own, with similar impulses like mentioned before. I did not have desire for any kind of special program or experience, like I usually do. I just wanted to be alone, far from everything that connects me with the world. I needed some time to get charged slowly and gradually to welcome the festive season and the next year. Since I didn't have great expectations, I was pleasantly surprised. It was a 5 and a half hours long flight from Munich through Canary Islands to Espargos, the tiny capital of Salt Island. I booked the journey on Discount-travel.com, which contained a 3-star hotel room with HB, flight ticket with transfer and all in all it costed 530 Euros.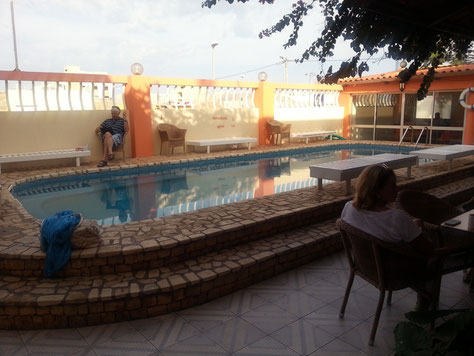 Hotel Da Luz*** is a forgettable place, nothing special. It gives what is expectable from the African 3-star level: TV not working, empty minibar with a 15°C inner temperature, water coming up from the floor drain in the bathroom, roaches popping up sometimes at the balcony. Minimal style breakfast. There is Wi-Fi connection if you pay for it and it's useless because the signal is too weak, well, not a big deal. It's apt for sleeping, there's a small pool and apart from one or two Dutch tourists the only beings you meet are the tattered-eared, flip, arbitrarily settled cats. The weather is perfect with its pleasant 26°C, and with glaring sunshine on 350 days of the year. The southern town is tiny, it can be toured in a day. The capital is not much bigger, but over there, there is nothing indeed, because all the hotels are in the south. I rented a car, if I recall it well, the small Suzuki Jimny jeep costed 35€/day. They accept Euros everywhere, but they give the change in Escudos. The exchange rate is 1€=110 CVE, despite they round it to 100, just for simplicity. There was a cash machine only at the airport, but it wasn't necessary to change.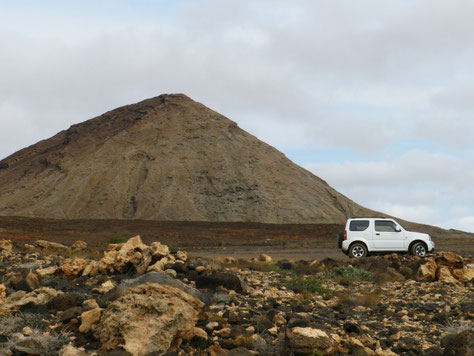 They didn't ask me for insurance or caution money. The car cannot be stolen on that small island anyway. So I went to discover the island. It can be achieved relatively easily in a day, as the island is only 30 km long. It is worth visiting the Pedra Lume salt mine, there aren't many things there, but a lot of salt and a little water. In the small salty pond, you can sit or lie down on the surface of the water. There is a minimal entrance fee. The pond is muddy, supposedly it's healthy. After the salty bath it's recommended to take a shower immediately, which costs 1€, and goes like this: you tell to the African girl in the small buffet that you would like to take a shower, who – if isn't busy – takes the tap with her, with which she opens the open-air shower, and standing in front of you during the whole time she waits until you finish. If she decides that you've finished, she closes the water and then, you can go wherever you want. After that, I drove to Buracona, where, apart from a buffet, there is a huge cliff and a tarn, practically in the middle of nowhere. In the picture above, you can see a volcanic hill. Behind that there was another one like that, so I decided to drive to the top. By the way, you can go off-road anywhere, but using the trodden paths is recommended.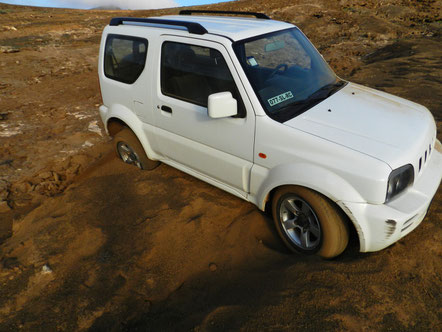 Due to my brilliant off-road technique, the loose sandy, hard area and the fully scuffed, tough tires, soon I totally dug myself coming down the hill. In the evening, in sunset. In the middle of nowhere. I couldn't do anything but go on foot to the nearest place, to a buffet situated 10 km away. I grabbed my three cigarettes and my half bottle of warm Ice Tea, and I set off to the horizon in slippers. Of course it went dark, I arrived at the buffet in dense darkness, hoping that somebody was there. Suddenly, tyke dogs sprang upon me, attacking my legs and my trousers. Luckily they weren't very strong, rather angry. I hoped someone would come and take them off of me. An apparently Senegalese immigrant appeared from a container in shock. I expressed with gestures that I needed a place to sleep until the morning. He laid a rug for me down on the floor, and he left. The moment I would have fallen asleep, he appeared with a fellow, and they sat next to me on plastic chairs. They turned on a horribly noisy truck-engine, which generated them the power to watch TV. They were watching an incredibly poor Portuguese soap opera, and they were smoking a joint. Well, somehow, I couldn't get to sleep, for plain reasons. I didn't sleep very much at all, and in the morning, I left.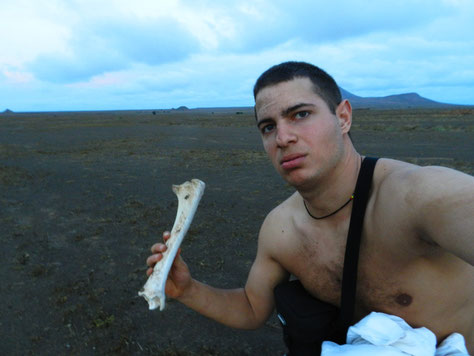 In the desert, I met a working group, who – very groundlessly – were transporting sand to the desert by a DAF truck from the ancient times. I communicated my situation to them, with gestures again, and that I'd have been very grateful if they helped me. We returned to the hill together, they dug my car out. I had 40€ with me, I gave them as payment for the nearly 1 hour long work. They were delighted.
So, that amount of adventures was enough for a week that had been planned to be relaxing. I returned to the town, had breakfast, and from that point, enjoyed the tranquility, which is the greatest benefit of islands. The time isn't as important there as in Europe, it even goes much slower. The shops open and close randomly, the local people are never in a hurry, they're sipping cocktails in front of their houses, listening to Bob Marley rhythms. Apart from a few Senegalese hyena, they're not bullying you to buy something in their stores, they smile, ask you, where you are from, but you don't have to be afraid of them. On the top of the flat-roofed houses, there are usually small, homemade cocktail bars. You can go upstairs; ask for a Caipirinha, which they can make in an exceptional way, lie back on a beanbag and read or have a rest by good reggae music. As there aren't a lot of tourists, with a good chance, you're gonna be totally alone. The relaxation is uncluttered.
You should avoid expensive restaurants. Food is much better in cheaper ones. You can have dinner with drink and dessert for 15€, in beautiful places like in the pictures above. The majority of the restaurants is on the beach. In the place I took the photo of, the fish was caught right in front of me, and they instantly roasted it on fire. You can't eat anything fresher, than fish that used to swim in the ocean 15 minutes ago. The beach is soft, white sandy. It's far the most beautiful beach I've ever visited, and you can take a walk kilometers long, it's not dangerous at night either. As the ocean deepens very lightly, and there are no rocks either, you don't have to be afraid of swimming, even in spite of tall waves. There are a lot of possible activities, you can rent a surf, do scuba-diving, go on boat trips, where you can see dolphins and rarely whales, too. I've only seen two dolphins.
In the suburbs, you can meet the African reality. You often find car-wrecks there, stray dogs that aren't very friendly, groups of kids, playing with sticks and stones. It's not suggested to walk around there, especially because of the dogs – the people are nice there, too, but more introverted. They work in salt furnaces situated dispersedly in the area. There is nothing else there. The contrast is very big comparing this side to the other, coastal side of the town.
All in all, I liked it. For what I feel sorry is that I didn't see other islands. If one wants to take photos, or discover the small country, 2 or 3 days are enough for Salt Island, it is worth travelling to Boavista, to Santiago, the biggest island, to Fogo, the small volcanic island, or to Sao Nicolau by plane or by regional ships. In Sao Nicolau, the nature is still relatively untouched. The majority of the islands is unfortunately dried out due to exaggerated water-usage.
Did you know?
The islands had been totally deserted, until they were discovered in 1461.
It was a Portuguese colony, important transit point of slave trade in the 16th century
The only African country, which has the best political and civil franchises, according to annual review of Freedom House.
It's a transit point of cocaine export from Latin America to Europe.
In 2009, the archipelago suffered from Dengue fever, which had many victims.
For more pictures click on Gallery.
 I hope you liked the post. If you have any questions or ideas, please, write a comment.

Translated by David Kaposi